Join L.A.'s Top Food Bloggers at TECHmunch Oct. 10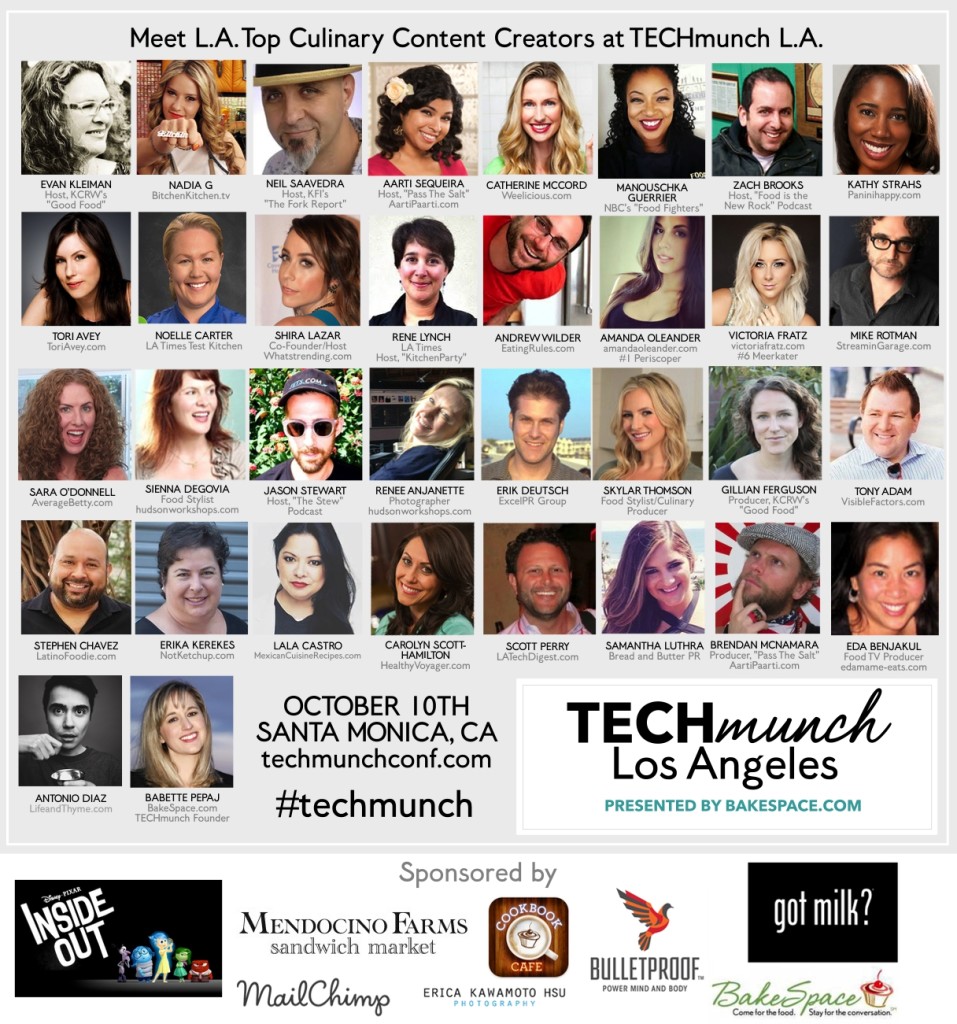 The TECHmunch Food Blogger Conference is returning home to Los Angeles onOctober 10th with a delicious lineup of experts ready to help you take your blog to the next level. It's time to invest in yourself and get the ingredients you need to succeed!
You'll learn practical, hands-on ways to improve your content, build your audience and turn your passion into profit. You'll also connect with colleagues, as well as brand marketers eager to partner with you on exciting promotions. Best of all, you don't have to travel or spend a small fortune to attend.
So get your ticket today! Early bird pricing (save $50!) ends this Sunday (9/27) at 11:59 p.m., and only a limited number of passes remain.
PANELS:
Pre-Panel Networking & Tasting w/ Got Milk, Disney Pixar's Inside Out & Bulletproof Coffee
Doors open at 9am / First panel starts at 9:30am. 
Food Trends & Recipe Development w/ Food Editors and Culinary Producers: Noelle Carter (LA Times Test Kitchen) & Skylar Thomson (Food Stylist) and moderated by Neil Saavedra (Host, KFI's "The Fork Report")
Food + Culture: Aarti Sequeira (AartiPaarti.com), Tori Avey (toriavey.com), LaLa Castro (MexicanCuisineRecipes.com) and moderated by Stephen Chavez (LatinoFoodie)
Food Photography/Styling Presentation – Plating for Pretty Pictures:  Sienna DeGovia (Food Stylist) and Rene Anjanette (Food Photographer)
SEO – How to Pick Your Perfect Keywords: Tony Adam (Visiblefactors.com) and Erik Deutsch (ExcepPR Group)
Building Community through Live-Streaming: Amanda Oleander (#1 Periscoper), Victoria Fratz (#6 Meerkater), Mike Rotman (Streamingarage.com) and moderator by Scott Perry (LATechDigest.com)
How to Build Your Empire & Catch Fire on Instagram: Catherine McCord (Weelicious.com), Antonio Diaz (LifeandThyme.com) and moderated by Samantha Luthra (Bread & Butter PR)
Lunch & Networking Sponsored by Mendocino Farms and Got Milk (Grab a cup of Bulletproof Coffee too!)
Cookbooks & App Publishing: Turn Your Recipes Into Revenue:Babette Pepaj (CookbookCafe.com)
Food TV: Youtube and Beyond: Nadia G (BitchinKitchen.com), Sara O'Donnell (AverageBetty.com), Eda Benjakul (Producer, "The Taste" "On the Menu") and moderated by Shira Lazar (Host, Whatstrending.com)
Mobile: How to Satisfy Your Readers on the Go: Rene Lynch (LA Times) and Andrew Wilder (BlogTutor.com)
Podcasting: How to Tap Into Your Community Through Storytelling:  Evan Kleiman (Host, KCRW's "Good Food"), Gillian Ferguson (Producer, KCRW's "Good Food"), Jason Stewart (Host, "The Stew" Podcast), Brendan McNamara (Producer, "Pass the Salt") and moderated by Zach Brooks (Host, "Food is the New Rock" Podcast)
Blog to Brand: Erika Kerekes (NotKetchup.com), Carolyn Scott-Hamilton (HealthyVoyager.com), Kathy Strahs (PaniniHappy.com) and moderated by Rene Lynch (LA Times)
Networking Mixer Sponsored by BakeSpace.com
To learn more about all the other TECHmunch conferences planned for 2016 (including Austin, New York, Miami, San Francisco, Atlanta and Seattle) please visit techmunchconf.com.