ABOUT OUR EVENT PRODUCER: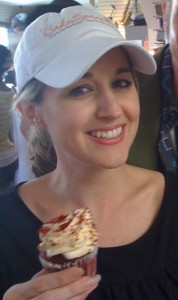 TECHmunch was created by BakeSpace.com Founder Babette Pepaj (@bakespace), who serves as conference producer and event host.  It was the process of launching the site as the first food social network and growing it to become one of the largest food sites on the web, that made Babette decided to share the lessons learned with other online publishers/bloggers.
If you'd like to learn more about BakeSpace, Inc, our conference producer or our other online properties, please visit:
VIDEOS:
1) Internet Week 2010, Erik Deutsch interviews Babette about building a lean startup.
2) Fox Business "Your Questions, Your Money"
FULL BIO:
Babette Pepaj founded BakeSpace.com in August 2006 as the Web's first food social network and recipe swap. With virtually no tech industry experience, the former TV producer (and avid baker) has built the site into the largest online community of its kind for food enthusiasts. In the process, she has earned some of the industry's highest accolades, including back-to-back Webby Award nominations in 2009 and 2010 in the ultra-competitive "Best Social Networking" category.
With Babette at the helm, BakeSpace has introduced many innovations including the first online mentor program for home chefs and the first-of-its-kind "Recipe Feed," which keeps BakeSpace members up-to-speed on what their friends are preparing in the kitchen. She has also helped develop a "new recipe" for social media advertising that enables brands to connect and engage with consumers on a true peer-to-peer level. In fact, the independent grassroots site has hosted unique campaigns for a long list of brands including KitchenAid, ABC, Sara Lee, Kodak, McCormick, Universal, Sony Pictures and FOX Searchlight.
Babette is also the founder of TECHmunch, a traveling food Blogger conference and has built relationships with thousands of food bloggers around the globe.
Prior to launching BakeSpace, Babette worked for more than a decade producing and directing reality TV. The common thread behind nearly all of her TV projects was an examination of the intriguing lives of ordinary people.
After studying photography on a scholarship at Syracuse University, Babette began her career in the then nascent reality genre by joining Bunim-Murray productions, where she quickly rose through the ranks to produce shows such as MTV's "The Real World" and "Road Rules." She went on to produce for The Travel Channel and Arnold Shapiro Productions, where she worked on the pilot and first season of the innovative teen documentary series "Flipped." While at the company, she also wrote and produced episodes of the newsmagazine "MSNBC Investigates." Other cable TV credits include TLC's "For Better or For Worse," Fine Living Network's "Breathing Room," Court TV's "Fake Out," ABC Family's "Switched!," TBS' "He's A Lady" (featured on "Oprah," "The View" and "Good Morning America"). Babette then focused her attention on broadcast network television, working on shows such as FOX Television's "Classmates," NBC's "Love Shack" and "Livin Large" and ABC's "Vacation Swap" (a spin-off the hit "Wife Swap").
As the guiding force behind BakeSpace, Babette is helping define how consumers interact on the social Web. She is a recurring guest expert on the FOX Business Channel and has been featured in TIME, The Washington Post, Chicago Tribune and many other top-tier media. She also makes what many BakeSpace members insist are the world's best chocolate ganache cupcakes.