TECHmunch San Francisco
August 26, 2016 @ 9:00 am

-

6:30 pm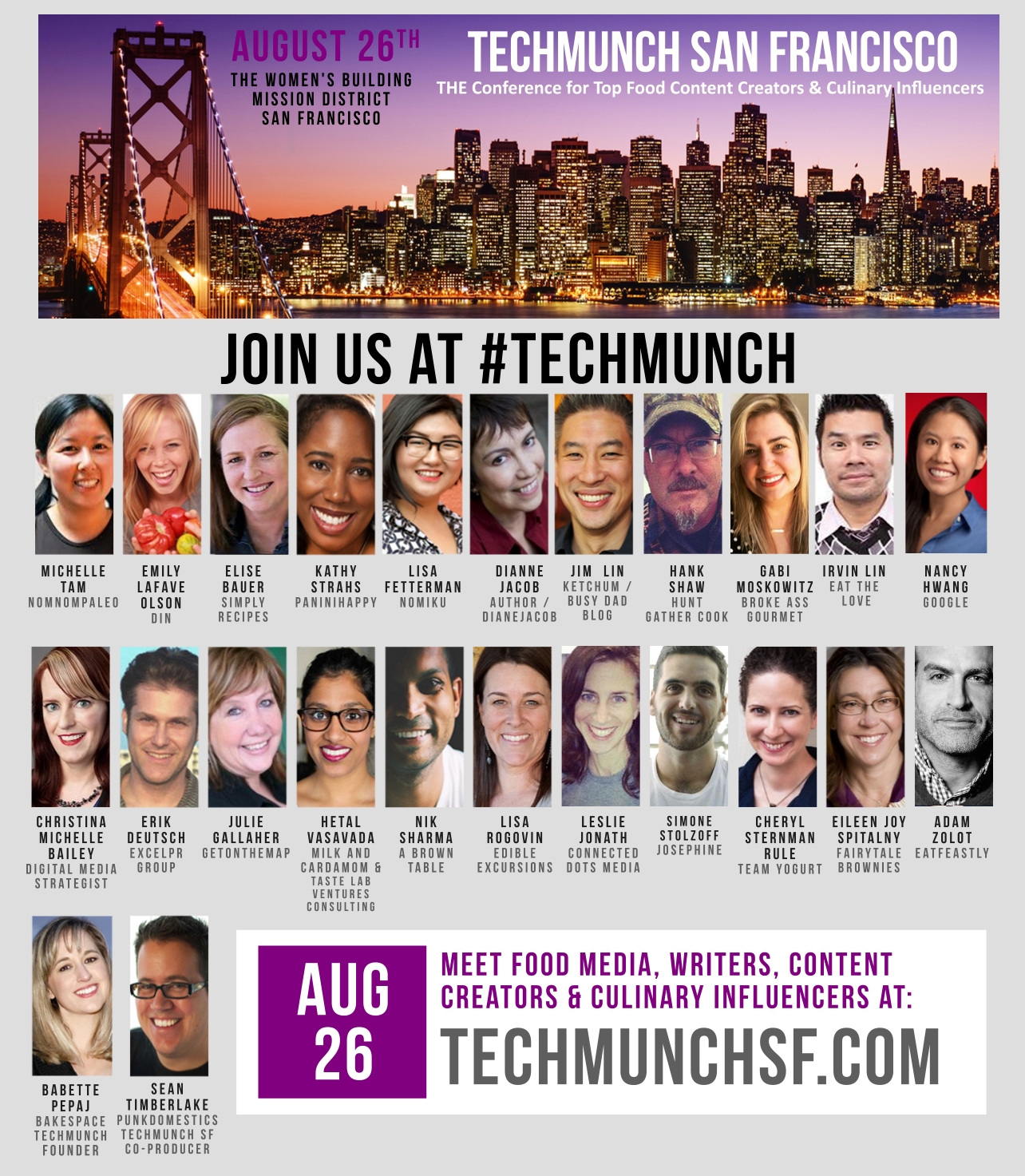 TECHmunch is the traveling food media/blogger

 

conference that combines networking, panels, tastings and demos to inspire even the most seasoned culinary influencer. Launched in 2010, the conference has traveled to more than 25 cities across North America.
TECHmunch SF will feature the most accomplished culinary and digital media experts in the Bay Area. Each will be focused on sharing the hands-on tools and tactics food bloggers and culinary content creators need to create great content, build a loyal audience and turn their passion into profit.
Like all previous TECHmunch conferences, the format at TECHmunch SF. will be fast-paced, no-nonsense and dedicated entirely to making food blogging a deliciously rewarding experience. Culinary marketing, PR and branding professionals are also invited to attend and learn how to work effectively with local food bloggers.
GIVING BACK: This year's TECHmunch will be held at the Women's Building (Mission District) and all venue fees will go to support local programs to help the community. 
CONNECT WITH US:  On Facebook | On Twitter (#techmunch)
WHO SHOULD ATTEND:
Anyone serious about creating great culinary content (e.g., food and lifestyle bloggers, recipe writers, traditional content developers and cookbook authors) as well as the brand marketers/PR reps and food/lifestyle startups who want to work with them.
PRODUCED BY:
The traveling TECHmunch conference is produced by Webby and IACP honored BakeSpace.com — a leader in online food content and community with a tasty grassroots approach.  TECHmunch San Francisco is co-produced locally by Sean Timberlake (Founder, PunkDomestics.com) 
Interested in sponsoring TECHmunch? Sign up today! 
SCHEDULE/SPEAKERS: 
TIME

PANEL/PRESENTATION

SPEAKERS

9:00am
DOORS OPEN / BREAKFAST TASTING 

Sponsored by Got Milk (Recipes created by The Culinary Dude), True Story Foods and BlendFresh

9:45am-10:15am
BLOG TO BRAND: HOW TO BUILD A POWERFUL ONLINE BRAND 
Elise Bauer (Founder, SimplyRecipes.com), Michelle Tam (Founder, nomnompaleo.com), Gabi Moskowitz (Founder, BrokeAssGourmet.com) and Moderator, Dianne Jacob (Author, diannej.com)
10:20am-10:45am
LAUNCHING A FOOD BIZ CHAT
Eileen Joy Spitalny (Co-Founder, Fairytale Brownies), Lisa Q Fetterman (Co-Founder, Nomiku.com), Lisa Rogovin (Edible Excursions) and Moderator, Erik Deutsch (Excelpr.com)
11:00am-11:30am
PINTEREST TIPS
Irvin Lin (Founder, eatthelove.com), Nik Sharma (Founder, abrowntable.com),  Moderator, Julie Gallaher (Founder, getonthemap.us)
11:40am-12:00pm
PLATING INSTAGRAM WORTHY PHOTOS PRESENTATION

Hetal Vasavada (Milk and Cardamon & Taste Lab Ventures Consulting 

12:05pm-12:35pm
CROWDFUNDING YOUR COOKBOOK
Kathy Strahs (Author / Founder, PaniniHappy.com), Hank Shaw (Author, Founder, honest-food.net), Leslie Jonath (connecteddotsmedia.com) and Moderator Cheryl Sternman Rule (Founder, TeamYogurt.com) 
12:35pm-1:35pm
LUNCH

Sponsored by BakeSpace.com, CookbookCafe.com, Got Milk, True Story Foods, Blend Fresh & Fairytale Brownies

1:35pm-1:50pm
BEYOND THE BLOG: MEET COOKBOOK CAFE
Babette Pepaj (BakeSpace.com & CookbookCafe.com) 
1:55pm-2:25pm
WORKING WITH BRANDS: ADVICE FROM BOTH SIDES OF THE TABLE
Jim Lin (VP Digital Strategist, Ketchum & Founder, Busy Dad Blog) and Moderator, Erik Deutsch (Excelpr.com)
2:35pm-2:55pm
EMERGING VIDEO TECH
Presenter: Christina Michelle Bailey (Digital Strategy & Business Development Consultant, distributedbytes.com)
2:55pm-3:10pm
NETWORKING BREAK

Stop by Got Milk, Blend Fresh and True Story Foods Booths!

3:10pm-3:25pm
IMPROVING USER ENGAGEMENT IN TODAY'S MOBILE AND SOCIAL WORLD

Presenter: Nancy Hwang, Manager, Acquisitions and Growth Marketing (Online Partnerships Group), Google 

3:30pm-4:00pm
DISRUPTING THE SAN FRANCISCO FOOD SCENE
Emily LaFave Olson (Co-Founder, Din.co), Simone Stotzoff (Director of Communications, Josephine.com), Adam Zolot (eatfeastly.com) and Moderator and Monderator Sean Timberlake (Founder, PunkDomestics.com)
5:00pm-6:30pm
MIXER HOSTED BY MYRAID (the Castro's new Market Hall)

Please walk or Uber to Venue. It's very close.

Mrs. Jones (spinoff and spouse to Jones, the Tenderloin bar)

Le Bread Xpress

Poke Delish

Raw – A Juice Company

NoNaMe Sushi

SF Brewing Co. (Beer)

Antonik's (BBQ)

The Cro Cafe (Coffee)

Homestead Cookies (Cookies)

Crepes S'Il Vous Plait
PARKING INFO FOR THE WOMEN'S BUILDING – SEE HERE
VENUE: THE WOMEN'S BUILDING
3543 18th Street
San Francisco, CA 94110 United States
Phone: 415- 431-1180
MIXER: THE MYRIAD – 2177 Market St, San Francisco, CA 94114. This is a private event:  Guests must have a conference badge to enter the tasting event & networking mixer. 
SPONSORED BY: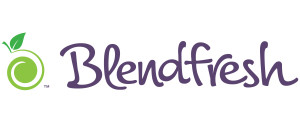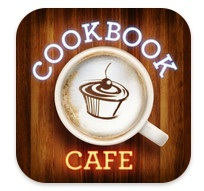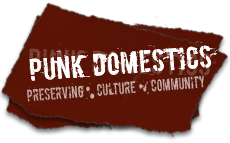 ABOUT SPONSORS:
CMPB (@GotMilk): The California Milk Processor Board was established in 1993 to make milk more competitive and increase milk consumption in California. Awareness of got milk? is over 90% nationally and it is considered one of the most important and successful campaigns in history. Got milk? is a federally registered trademark that has been licensed by the national dairy boards since 1995. The CMPB's Spanish-language campaign began in 1994 using the tagline "Familia, Amor y Leche" (Family, Love and Milk). The TOMA LECHE (Drink Milk) campaign replaced it in 2006, in order to better align the English and Spanish language work. The CMPB is funded by all California milk processors and administered by the California Department of Food and Agriculture. See more at: www.gotmilk.com
True Story Foods is committed to providing healthy and sustainable natural and organic meat. The company is rooted in true stories of farmers and ranchers; chefs who believe in using simple ingredients to craft honest food; and families striving to eat well. All meat comes from animals raised humanely without antibiotics or added hormones. Products are crafted from clean ingredients, without the use of synthetic nitrates or nitrites, artificial ingredients, and preservatives. Connect with the brand on Twitter @TrueStoryFoods, Instagram@TrueStoryFoods, and Facebook at www.facebook.com/truestoryfoods/.
Fairytale Brownies (@ftbrownies) Our goal is to spread joy and simplify gift giving through worldwide shipping of our family recipe of all natural gourmet treats. Baking magic since 1992, Fairytale Brownies.
BlendFresh (@Blendfresh) Ongoing requests from loyal Blendtec customers for products to use in their favorite Blendtec blenders motivated company founder, Tom Dickson, to use his innovative and engineering genius to create the perfect nutritional product for his customers to use in their Blendtec blenders. After seven years of research and development, a line of whole foods that are clean, pesticide-free, kosher certified and non-GMO was created. Many of the products are gluten-free with organic ingredients. The premiere products feature a fusion of fruits and vegetables in nutrient-dense powders. These powders are processed by a patented technology called Fresh Dried™, which retains 100% of the nutrients, vitamins, enzymes and minerals of the foods. A nutritious partnership between Blendtec and Blendfresh was born.
Here's the best part of the Blendfresh story! As a life-long entrepreneur and a customer-focused business leader, Tom wanted to offer his customers a business model that partnered with leading-edge technology of Blendtec blenders with the nutrient-dense powders from Blendfresh. From this vision, a simple and effective social-selling model was created to give each customer a more personalized experience and a chance to change their lives with greater health while empowering wealth.
Combining hardware and consumables creates a one-of-a-kind consumer experience never offered before. The Blendfresh Preferred Customer program offers a plan where whole food  products are delivered monthly to people's homes at preferred pricing. Our best customers are rewarded for advocating and sharing Blendfresh products with a home-based, social-selling business opportunity. These customers are known as Blendfresh Wellness Partners; they enjoy seven refreshing ways to earn income under the Blendfresh Earnings Plan.
You won't find a company more unique or more dedicated to promoting nutrition, wellness and financial health than Blendfresh. You can play a significant role in our story by helping Blendfresh cultivate a global community with the means to live a healthy, happy, abundant life. Learn more at: blendfresh.com, facebook.com/Blendfresh, instagram.com/blendfresh, pinterest.com/blendfreshteam