TECHmunch San Francisco – Content Creator & Food Influencer Conference
August 25, 2017 @ 10:00 am

-

6:00 pm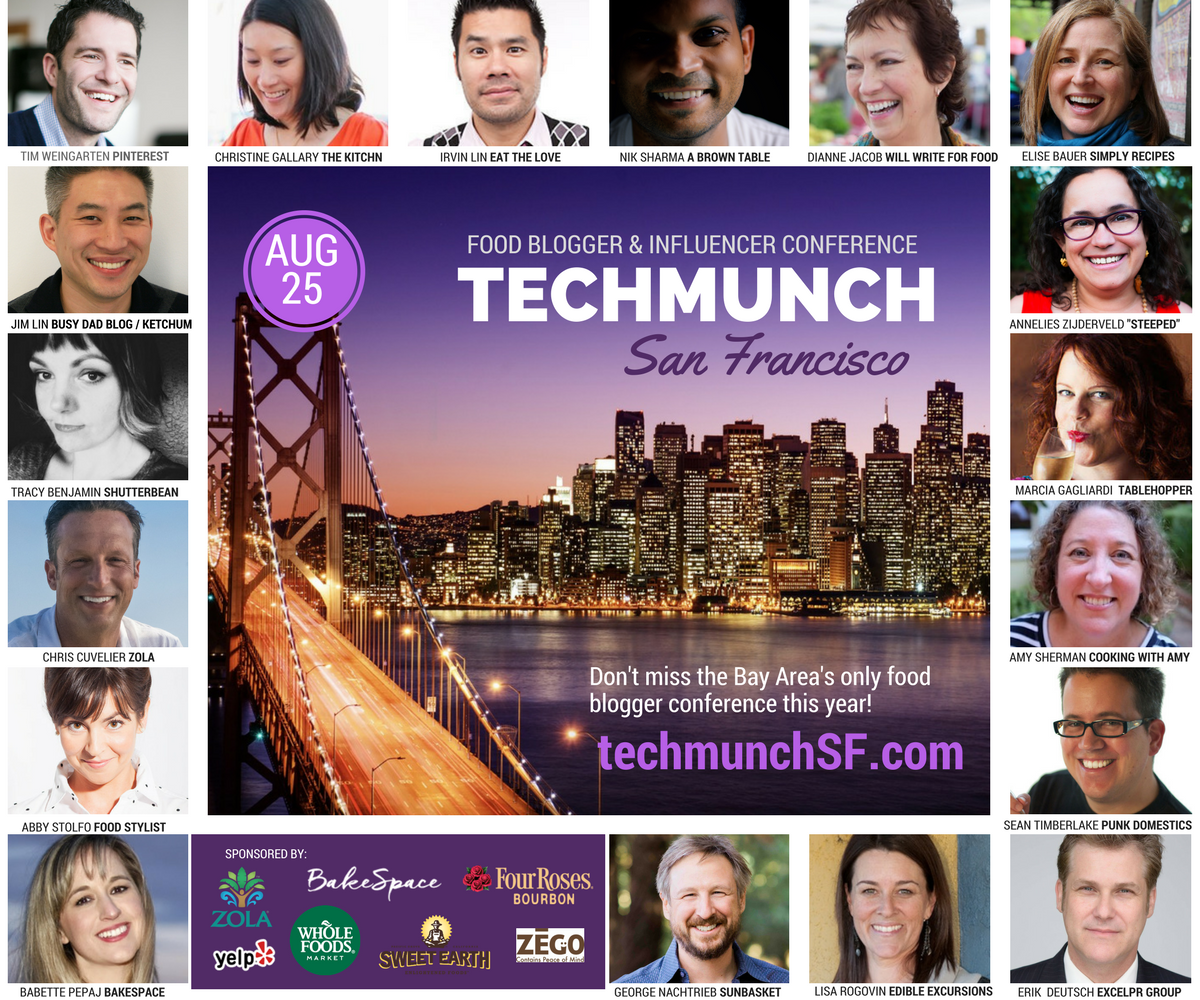 Don't miss the Bay Area's only Food Content Creator/Influencer Conference this year!
TECHmunch Returns to San Francisco August 25th
The traveling TECHmunch Conference returns to San Francisco on August 25th with a full day of networking, educational sessions, tastings, and demos — all designed to help you take your content creation and monetization efforts to the next level.
NO NEED TO TRAVEL FAR OR SPEND A FORTUNE TO ATTEND A WORLD-CLASS CONFERENCE
TECHmunch San Francisco 2017 is the hometown conference for turning your passion into profit.We'll cover the latest content and monetization strategies. Fast-paced sessions will help you optimize everything from working with brands to producing great videos, photos, podcasts and digital cookbooks.
LEARN FROM TOP EXPERTS & CONNECT WITH LOCAL COLLEAGUES
TECHmunch San Francisco will connect you with top experts sharing the latest hands-on tools and tactics. No fluff and no heavy-handed promotion – just the information you need to succeed. In addition, because TECHmunch is a local conference, you'll have an opportunity to build valuable relationships other Bay Area content creators and influencers, as well as potential brand partners.
WHO WILL I MEET AT TECHMUNCH?
Food/lifestyle bloggers, social media influencers on Instagram/Facebook/Snapchat, recipe writers, cookbook authors and traditional food media professionals who are serious about creating great content. You'll also meet brands, PR Professionals and Marketing Pros who work with bloggers/influencers. 
The traveling TECHmunch Conference is produced by Webby and IACP-honored BakeSpace.com — a leader in online food content and community with a tasty grassroots approach. 
TECHmunch San Francisco is locally produced by Sean Timberlake (Punkdomestics.com).
CONFERENCE CONVERSATIONS:
No Arrogance. No Useless Content. No Fluff.
TECHmunch is the best content of a three-day conference distilled down to one day with only the best (and most useful) content.
B

eyond Food Porn, How to Optimize Instagram & Turn Everyday Experiences into Great Photos & Build an Authentic Following

– Irvin Lin (

eatthelove.com) & Nik Sharma (abrowntable.com), Tracy Benjamin (Shutterbean.com) and moderated by Annelies Zijderveld(Author "Steeped")

How to Produce & Distribute Mouthwatering Recipe Videos & How to Develop a Game Plan for Facebook Live and Other Live Platforms –

 Christine Gallary (

thekitchn.com) and George Nachtrieb (SunBasket.com)
A Conversation about Pinterest… with Pinterest – Tim Weingarten (Product Manager, Commerce at Pinterest) and moderated by Elise Bauer (SimplyRecipes.com)

Don't Reinvent the Wheel: How to Recycle, Repurpose and Aggregate Existing Content

– Dianne Jacob (

diannej.com) & Amy Sherman (cookingwithamy.blogspot.com)

Working with Brands and Monetizing Your Influence – 

Jim Lin (Busy Dad Blog & Ketchum PR), moderated by Erik Deutsch (ExcelPR Group)

Tapping into Trends: What's New / Next for the San Francisco Food Scene

–

Marcia Gagliardi, (Tablehopper.com), Lisa Rogovin (Edible Excursions) and moderated by Sean Timberlake, (Punkdomestics.com) 
Recipe for Success: Fueling the Slash Life – a Conversation with Chris Cuvelier, Founder Zola
Food Styling Advice – Abby Stolfo, abbystolfo.com 

Lunch Sponsored by Whole Foods Market

All-Day Hydration and Fueling Station provided by Zola, makers of Coconut Water, Organic Açaí Juice and new Organic Hydrating Energy Drinks

Pre-Conference Bourbon Mixer and Bourbon Workshop hosted by Four Roses Bourbon at Yelp HQ (Aug24)
Connect with Event:
facebook.com/TECHmunch
instagram.com/bakespace
twitter.com/bakespace
#techmunch
ABOUT OUR SPONSORS

WHOLE FOODS MARKET: instagram.com/wholefoodssanfrancisco |  wholefoods.com
ZOLA: Zola, makers of delicious all-natural Coconut Water and Açaí Juice beverages, lives for those who live the "slash life" – the daily hustle to achieve passion / profession / play. We know you're bringing in a paycheck / creating / side-hustling / crushing the competition. Only you know your next move, and only Zola can fuel it with Plant-Powered Hydration. If you Live Zola/ You can be ____________ (we know you'll fill in the blank). To learn more, visit livezola.com.
FOUR ROSES BOURBON:  fourrosesbourbon.com
BAKESPACE.COM (BakeSpace.com) BakeSpace.com is the grassroots online community where you can share recipes, discover indie cookbooks, publish your own cookbook, meet other home cooks and express your passion for all things food-related. Launched in 2006 as the Web's first food social network, BakeSpace, Inc. has grown to become a diversified online media, app publishing and conference production company for engaging consumers who are passionate about the culinary lifestyle.
COOKBOOK CAFE (cookbookcafe.com) Writing a cookbook is fun! Publishing a cookbook is not. With BakeSpace's Cookbook Cafe, anyone can publish, market and sell their own cookbook as both a web based ebook and iPad app without the need to hire an editor, designer or app developer. Best of all, it's free!
YELP: yelp.com
Sponsored by: