TECHmunch NYC 2017 – Content Creator & Food Influencer Conference
September 28, 2017 @ 10:00 am

-

6:00 pm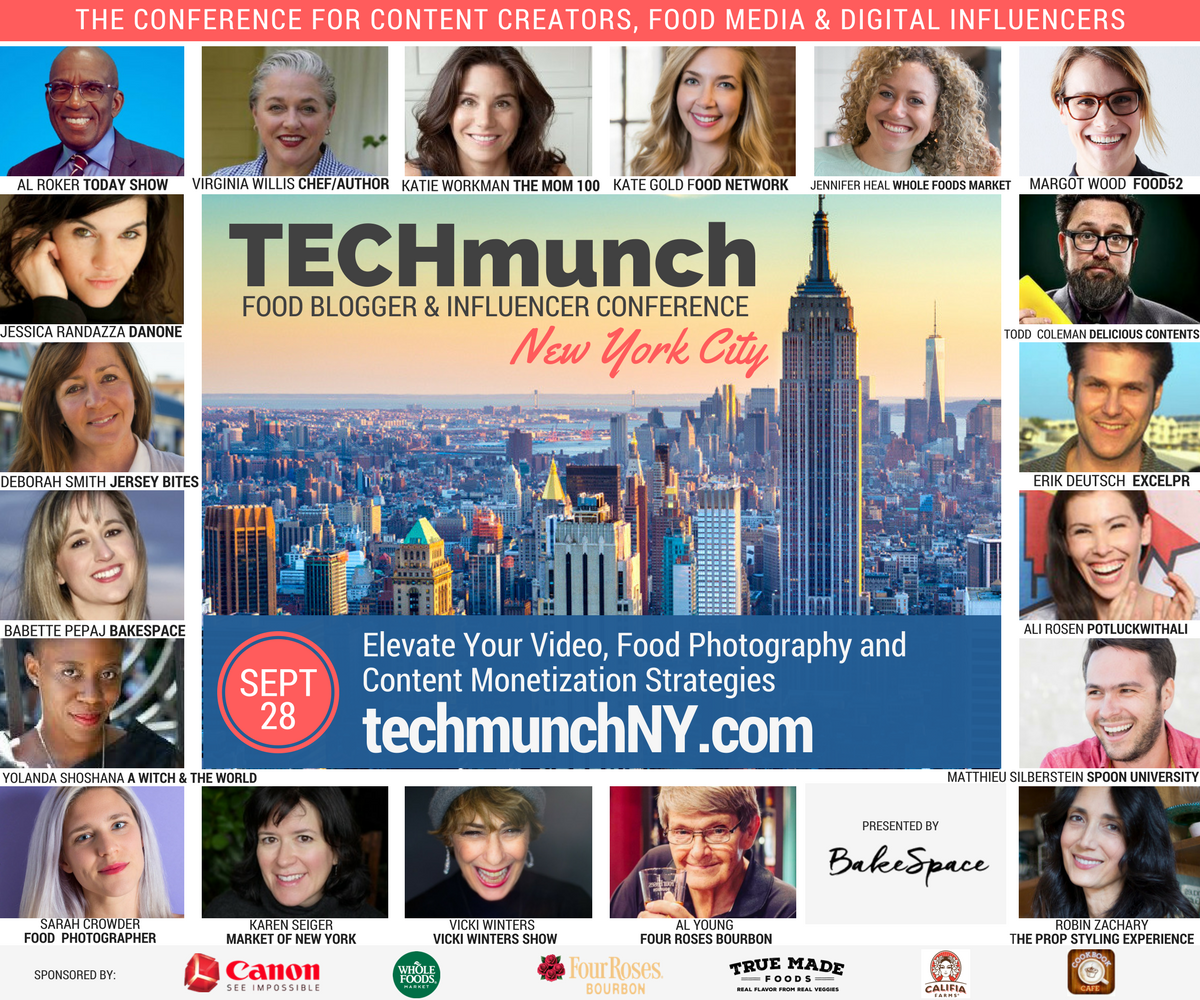 TECHMUNCH RETURNS TO NYC SEPT 28 – FOCUSED ON ADVANCED PHOTO & VIDEO TECHNIQUES 
The traveling TECHmunch Conference returns to New York City on September 28th to bring content creators (e.g., food bloggers, culinary influencers, culinary brands, etc.) up-to-speed on the latest techniques for photo and video storytelling. It will be a full day of networking, educational sessions, tastings and demos — all designed to help you to take your content creation, monetization and influencer marketing to the next level. See schedule below.
NO NEED TO TRAVEL FAR OR SPEND A FORTUNE TO ATTEND A WORLD-CLASS CONFERENCE
TECHmunch NYC 2017 is all about helping you turn your passion into profit through the latest photography and video strategies. Fast-paced, hands-on sessions will show you how to improve your content – from photo and video basics to Facebook Live, Instagram, Snapchat and Pinterest. You'll learn how to plan, shoot and syndicate content your readers/fans/sponsors will love (stay tuned for full conference agenda). For brands, the event will be a great way to connect with top food media face-to-face. 
LEARN FROM TOP EXPERTS & CONNECT WITH LOCAL COLLEAGUES
At TECHmunch NYC, you'll learn the tools and tactics used by leading content creators. No fluff and no heavy-handed promotion – just the information you need to succeed.  In addition, because TECHmunch NYC is a local conference, you'll have an opportunity to build valuable relationships other east coast content creators and influencers, as well as potential brand partners.
The traveling TECHmunch Conference is produced by Webby and IACP-honored BakeSpace.com — a leader in online food content and community with a tasty grassroots approach. 
WHO WILL I MEET AT TECHMUNCH?
Food/lifestyle bloggers, social media influencers on Instagram/Facebook/Snapchat, recipe writers, cookbook authors and traditional food media professionals who are serious about creating great content. You'll also meet brands, PR Professionals and Marketing Pros who work with bloggers/influencers. 
Connect with Event: facebook | instagram  |  twitter.com  #techmunch
SESSIONS & SPEAKERS:
No Arrogance. No Useless Content. No Sponsored Fluff.
Sessions in the order of lineup:
DOORS OPEN AT 10 AM  (in order of events) 
Coffee Selfies with Canon & Welcome by TECHmunch Producer 
How to Leverage Social Platforms & Filters to Delight Your Audiences 
Working with Brands and Monetizing Your Influence
How to Optimize your Instagram & Facebook Pages & Build an Authentic Following
LUNCH SPONSORED BY WHOLE FOODS, plus tastings by Canon, True Made Foods
Make Old Content New Again: Monetize Your Recipes (& Make Your Own Cookbook) with Cookbook Cafe
Plan, Shoot & Edit: 6 Essential Lessons for Every Food Photographer
10 Things You Can Do Right Now to Pretty Up Your Food Photos
How to Manage Your Brand's Social Pages, Genuinely Connect with Fans & Generate Buzz
How to Produce & Distribute Mouthwatering Video
The TODAY SHOW Recipe for a Great TV Food Segment: A Conversation with Al Roker
Hands-on Bourbon Tasting with Al Young
Plus, check out CANON'S all-day "Ask the Photo Experts" Booth! 
Networking mixer with hand-crafted cocktails presented by Four Roses Bourbon

FEELING LUCKY?  (Winners announced 9/23)