TECHmunch NYC 2016: Food Blogger Conference
September 30, 2016 @ 9:00 am

-

5:00 pm
Event Navigation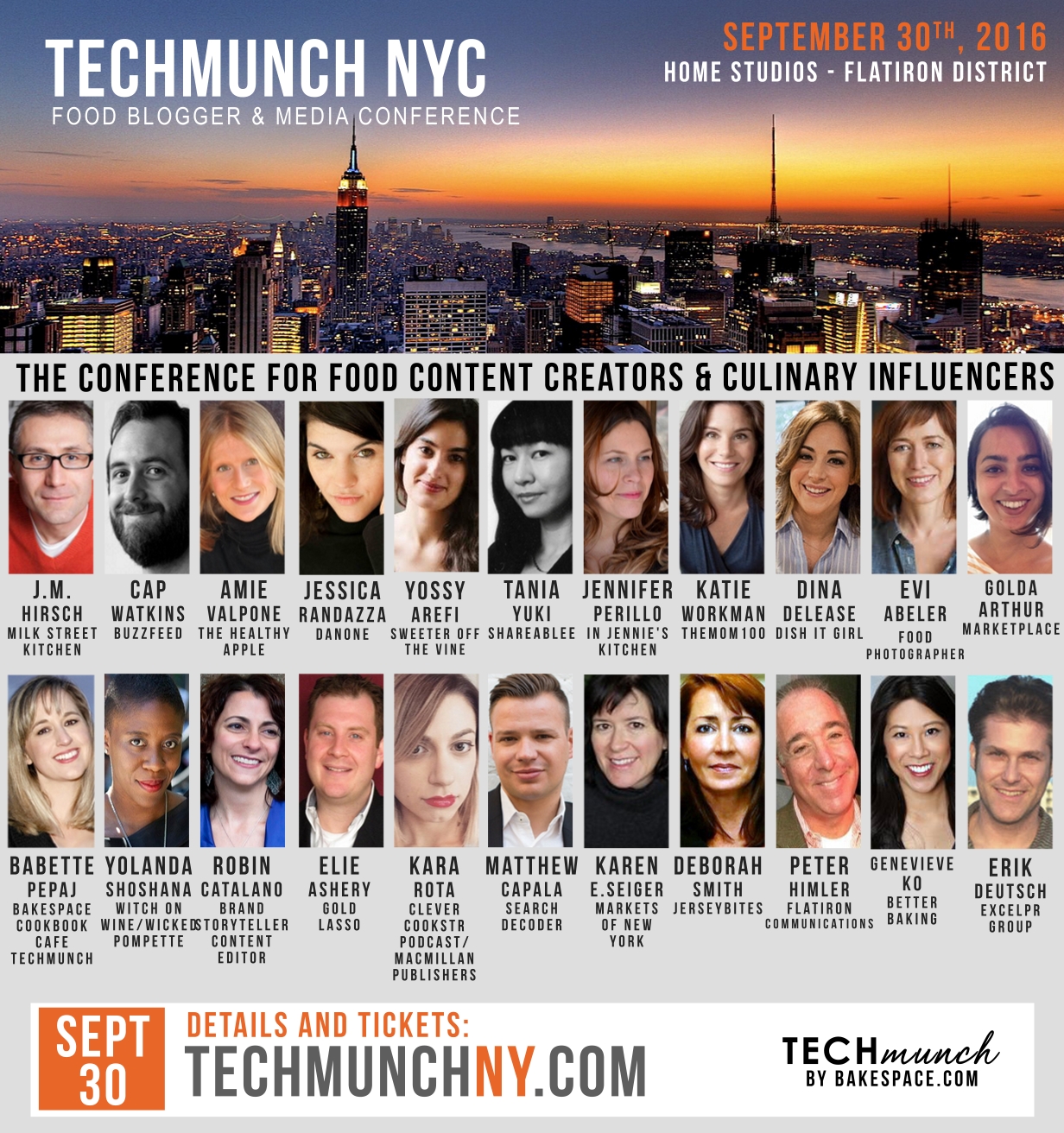 Looking for TECHmunch 2017 – if so, go here! 
TECHmunch NYC Food Blogger Conference
We're proud to announce that the TECHmunch Food Blogger Conference returns to New York City on September 30th. It's the sixth year in a row TECHmunch has come to NYC to give Big Apple food and lifestyle bloggers a deliciously local conference to call their own. Launched in 2010, TECHmunch combines networking, panels, tastings and demos to inspire even the most seasoned culinary influencers. To date, we have produced nearly 30 TECHmunch conferences in cities across North America.
Like every TECHmunch, the format on Sept. 30 will be fast-paced, no-nonsense and dedicated entirely to helping make food blogging a deliciously rewarding experience. Culinary industry PR and marketing professionals are also invited to attend to learn, network and contribute to the discussion.
WHO SHOULD ATTEND?
Anyone serious about creating great culinary content (food and lifestyle bloggers, recipe writers, traditional content developers and cookbook authors) as well as brand marketers/PR professionals and food/lifestyle startups interested in working with top culinary influencers.
CAN NON-FOOD BLOGGERS ATTEND? 
Yes of course! A lot of our chats will be focused on food content, but anyone interested in improving their content strategy will walk away from our event with useful information.
PRODUCED BY:
TECHmunch is produced by multi-Webby and IACP honored BakeSpace.com, — a leader in online food content, community and DIY publishing – all with a tasty grassroots approach.
CONNECT WITH US:  On Facebook | On Twitter (#techmunch)
AGENDA:
TIME 

PANEL/PRESENTATION:

SPEAKER(S):

9:15AM-9:40AM

FINDING YOUR UNIQUE STORY AND STANDING OUT IN A CLUTTERED ONLINE CROWD 
Amie Valpone (Author, Eating Clean; Founder, Thehealthyapple.com), Dina  Delease (Owner/TV Personality at DishItGirl.com); Moderated by Karen E. Seiger (Author, MarketsofNewyork.com)

9:50AM-10:15AM

BLOG TO BOOK: PUBLISHING ADVICE FROM THE PROS
Deborah Smith (Author, Jersey Shore Cookbook; Founder, JerseyBites.com), Genevieve Ko (Author, Better Baking: Wholesome Ingredients, Delicious Desserts); Moderated by Katie Workman (Author, The Mom 100 Cookbook; Founder, themom100.com)

10:20AM-10:35AM

MEET COOKBOOK CAFE — PUBLISH YOUR OWN COOKBOOK 
Babette Pepaj (Founder, BakeSpace.com & CookbookCafe.com)

10:40AM-11:05AM

HOW TO TELL A GREAT STORY – MASTERING PODCASTING AND OTHER STORYTELLING TECHNIQUES  
Kara Rota (Host, Clever Cookstr Podcast; Editor, Macmillan/Flatiron Books); Golda Arthur (Podcast Producer, Marketplace); Moderated by Robin Catalano (Brand Storyteller, Content Consultant & Editor, robinwriter.com)


11:10AM-11:25AM

HOW TO MAKE YOUR CONTENT MORE SHAREABLE 

Tania Yuki (Founder and CEO, Shareablee.com)

11:30AM-11:55AM

INBOX INSIGHTS: OPTIMIZING YOUR NEWSLETTER FOR MONETIZATION 
Elie Ashery (CEO, Gold Lasso)

12:05PM-12:30PM

THE STATE OF ONLINE INFLUENCE AND WHY DOES IT MATTER

Peter Himler (Founder, Flatiron Communications); Moderated by Erik Deutsch (Principal, ExcelPR Group)

12:30PM-1:00PM

8 SEO HACKS TO TAKE YOUR BLOG TO THE NEXT LEVEL
Matthew Capala (Founder, Searchdecoder.com)

1:00PM-2:00PM

LUNCH

2:00PM-2:20PM

WEB DESIGN THAT WORKS & BUILDS A LOYAL COMMUNITY 
Cap Watkins (VP of Design, BuzzFeed; Formerly at Etsy, Amazon, Formspring and Zooks); Moderated by Yolanda Shoshana (Witch On Wine/Wicked Pompette, yolandashoshana.com)

2:25PM-2:45PM

MONETIZING YOUR CONTENT & WORKING WITH BRANDS 

Jessica Randazza (Head of Marketing, Danone); Moderated by Erik Deutsch (Principal, ExcelPR Group)

2:50PM-3:20PM

THE SOCIAL WEB: ADVICE FOR MASTERING SNAPCHAT, INSTAGRAM & FACEBOO

K STORIES 



Jennifer Perillo (Writer/Editor, InJenniesKitchen.com), Yossy Arefi (Author of Sweeter off the Vine); Moderated by Karen E. Seiger (Author, MarketsofNewyork.com)

3:30PM-4:00PM

TOP 10 PHOTOGRAPHY AND STYLING TIPS FOR FOOD BLOGGERS – AN INTERACTIVE DEMO 

Evi Abeler (Professional Food Photographer)

4:05PM-4:30PM

THE STATE OF FOOD WRITING 
J.M. Hirsch (Editorial Director, Chris Kimball's Milk Street Kitchen, Author, Beating the Lunchbox Blues and High Flavor Low Labor; previously served for 20 years as Food Editor, The Associated Press); Moderated by Erik Deutsch (Principal, ExcelPR Group)

ALL DAY

Plus…ALL-DAY FOOD PHOTOGRAPHY CLINIC 

Evi Abeler: Sit one-on-one with one of NYC's leading food photographers.

4:30PM-5:30PM

NETWORKING MIXER & WINE TASTING 
Sponsored by Kaiken and Montes Vineyards 
VENUE:  Home Studios – STUDIO 2 873 Broadway, New York, NY 10003 | Phone:(212) 475-4663
PARKING OPTIONS: 
Sound Parking: 17th St. between Broadway & 5th Avenue

Parking Ticket Survival Experts: 18th between Irving & Park Avenue

East Parking: 20th Between Broadway & 5th Avenue

Icon Parking: 21st between Park Avenue & Broadway

or try parkingpanda.com
SPONSORED BY: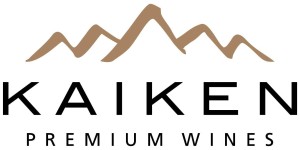 Kaiken Wines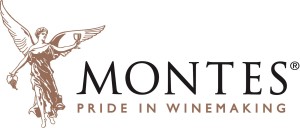 Interested in sponsoring TECHmunch NYC? Sign up today! 
BUY TICKETS:
THE FINE PRINT & MORE INFO:

Got a question? Email us at events@bakespace.com

Tickets at the door will be for the full brand pass ($450) even if you are a blogger.

TECHmunch tickets are non-refundable, but are transferable.

For privacy, we do not list or promote our guest list on this website.