TECHmunch SoCAL – Content Creator & Food Influencer Conference
October 21 @ 10:00 am

-

6:00 pm
Event Navigation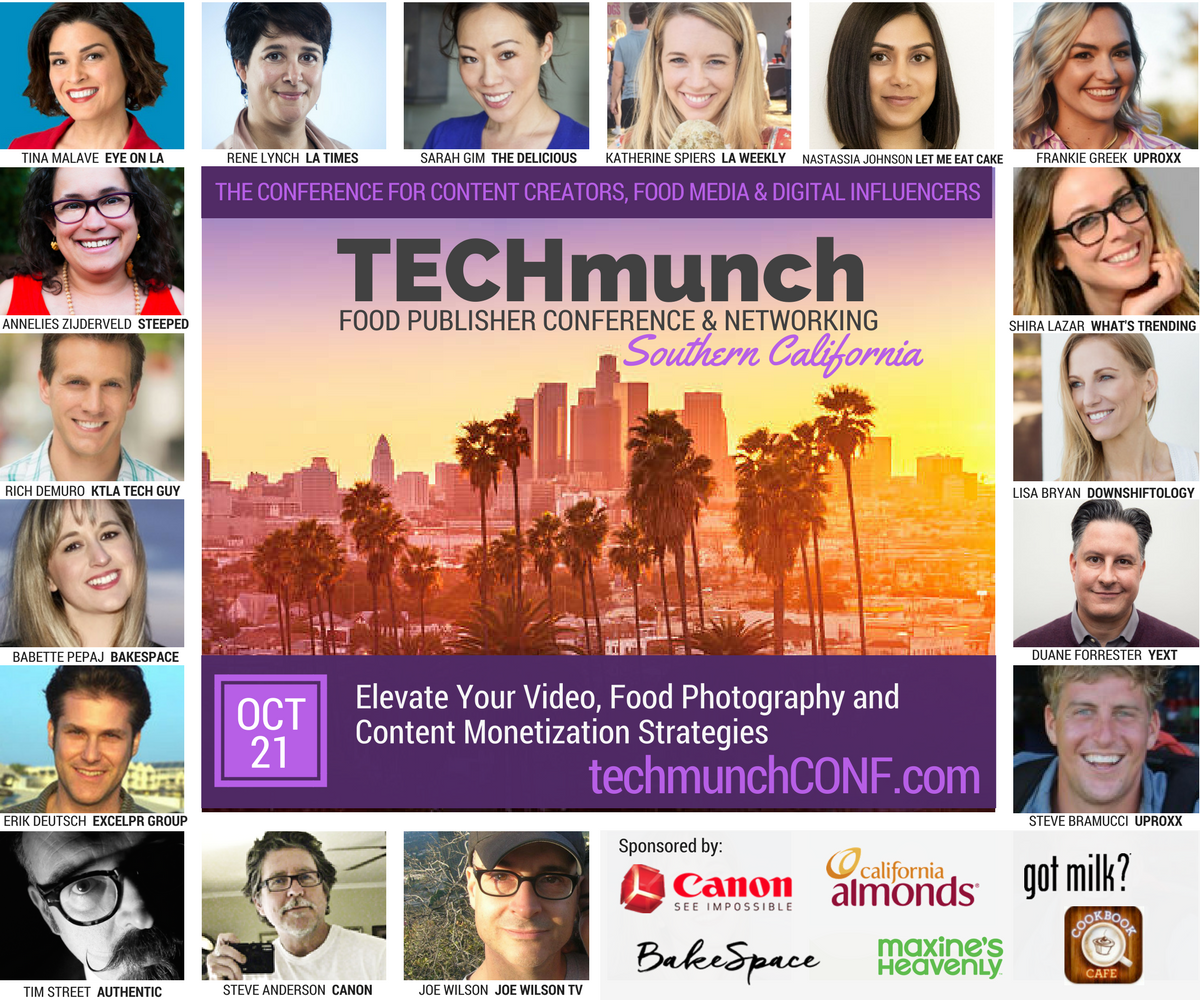 The traveling TECHmunch Conference is returning Southern California (Oct 21) to bring you up-to-speed on everything new in recipe video, food photography and monetization. The full-day event will be packed with networking, educational sessions, tastings and demos — all designed to take your content to the next level.
Why you should attend TECHmunch
Our fast-paced, hands-on sessions will help you improve your efforts immediately – from taking better food photos to mastering Facebook Live, Instagram Stories and Snapchat. You'll learn how to plan, shoot and syndicate content your audience will love.
Learn From Top Experts & Connect With Local Colleagues
No fluff and no heavy-handed promotion – at TECHmunch you'll get the information you need to succeed without all the nonsense. You'll meet top content creators and gain insights for working with brands and monetizing your content.
SoCal ONLY – Our New "Build-Your-Own-Conference"
Join TECHmunch SoCal at Canon's new state-of-the-art Experience Center. You'll get hands-on sessions with top photo and video experts, as well as a dozen breakout "pods" where you can get personalized, one-on-one advice about Instagram, Facebook, Podcasting, blog security. SEO and more. Don't miss the only food blogger/influencer conference that empowers you to control what you learn.
Connect with Event: facebook | instagram  |  twitter.com  #techmunch
SESSIONS & SPEAKERS:
No Arrogance. No Useless Content. No Sponsored Fluff.
PANELS:
What's New in SoCAL Food
How to Produce & Distribute Mouthwatering Video
How to Optimize your Instagram & Build an Authentic Following
A Conversation About Facebook
Sara Wilson (Strategic Partnerships Manager, Lifestyle, for Facebook & Instagram)

Moderated TBA
Working with Brands and Monetizing Your Influence
Make Old Content New Again: Make Your Own Cookbook with Cookbook Cafe
EDUCATIONAL PODS: 
Everything You want to Know About SEO and Search 
Duane Forrester (VP, Industry Insights at Yext)
Everything You Want to Know About Live Streaming 
Everything You Want to Know About Shooting Recipe Videos (and Youtube Channels) 
Everything You Want to Know About Podcasting 
Tim Street (VP of Influence and Production at Authentic)
Food Photography: "Do You See the Light" and "10 Simple Rules for Food Photography"
Plus, check out CANON'S all-day "Ask the Photo Experts" Booth, Food Styling Workshop and more!
Tastings by:  
California Almond Board
Got Milk
Maxine's Heavenly Cookies 
 FEELING LUCKY?