TECHmunch LA: Food Blogger Conference (10/10/15)
October 10, 2015 @ 10:00 am

-

6:00 pm
Event Navigation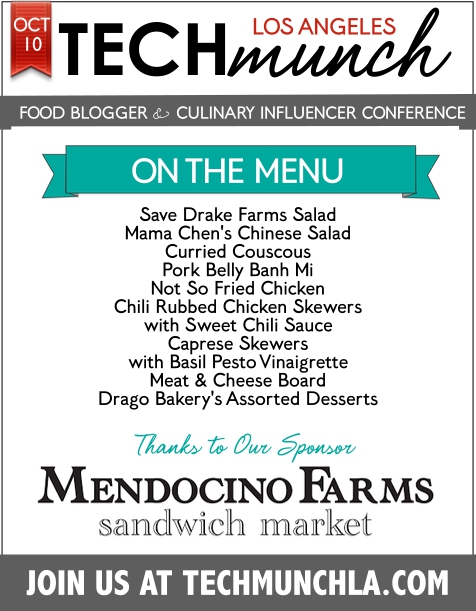 The TECHmunch Food Blogger Conference returns to Los Angeles for the third time on October 10th. The day-long event will feature many of Southern California's most accomplished culinary and digital media experts. Each will be focused on sharing the hands-on tools and tactics food bloggers and culinary content creators need to create great content, build a loyal audience and turn their passion into profit.
Like all previous TECHmunch conferences, the format at TECHmunch L.A. will be fast-paced, no-nonsense and dedicated entirely to making food blogging a deliciously rewarding experience. Culinary marketing, PR and branding professionals are also invited to attend and learn how to work effectively with local food bloggers.
WHEN:  

Saturday, October, 10th (9am-6pm) 

WHERE: 

Cross Campus, 929 Colorado Avenue, Santa Monica, CA 90401 (see map below)

WHO'S GOING: 

Up to 200 prominent food/lifestyle bloggers, culinary media, expert panelists and social media influencers

WHO SHOULD ATTEND: 

Anyone serious about culinary content (e.g., food bloggers, recipe writers, traditional content developers and cookbook authors) and the brand marketers/PR reps who want to work with them.

OUR FORMAT

: Our blend of networking, panels, tastings and demos will inspire even the most seasoned culinary and lifestyle blogger. The goal is to provide the ingredients bloggers need to succeed and pursue their passion. Our hands-on approach is designed to get attendees up-to-speed on all the latest tools and tactics for creating great content, building buzz, working with brands, growing an audience and profiting from their hard work.


PRODUCED BY: 

Webby and IACP honored BakeSpace.com – the Web's first food-themed social network, recipe swap and DIY cookbook publishing platform (ebook & App). 
CONFERENCE THEME:  

TECHmunch 21: Beyond the Blog
Before the event.. join our TECHmunch LA Facebook Group!
CONFERENCE SCHEDULE:
Morning Networking + Tasting w/ Got Milk & Bulletproof Coffee
Feeding Your Hungry Readers – Food Trends & Recipe Development w/ Food Editors and Culinary Producers
SPEAKERS: Noelle Carter (LA Times Test Kitchen) & Skylar Thomson (Food Stylist) and moderated by Neil Saavedra (KFI's "The Fork Report")
Food Photography/Styling Presentation – Plating for Pretty Pictures
SPEAKERS: Sienna DeGovia (Food Stylist / siennacake.com) and Rene Anjanette (Food Photographer /hudsonworkshops.com) 
LUNCH & NETWORKING Sponsored by Mendocino Farms, Got Milk, Bulletproof Coffee
Cookbooks & App Publishing: Turn Your Recipes Into Revenue
SPEAKER: Babette Pepaj (CookbookCafe.com) 
Networking Break – Last Call for Bulletproof Coffee!
Beer & Wine Networking Mixer Sponsored by BakeSpace.com