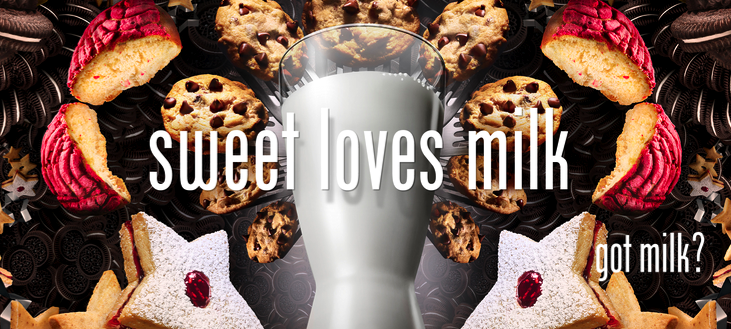 5 Questions with Got Milk
If you're attending TECHmunch LA, then you'll get a rare chance to meet the fine folks from Got Milk. We sat down with the team to find out what they are most looking forward to at TECHmunch and how bloggers get on their radar. Check it out! 
What is Got Milk looking forward most being at TECHmunch?
We're excited to meet many of the leaders and digital content creators from Southern California's dynamic and innovative culinary scene. We're also looking forward to sharing exciting content from our new Got Milk? campaign called Food Loves Milk, which highlights milk's role in complementing a variety of food pairings –from savory, sweet to spicy– as well as to exchanging thoughts and ideas with blogger attendees
What should attendees be on the lookout when checking out your booth
By now, many attendees have likely seen Got Milk?'s Food Loves Milk TV commercial spots and print ads, currently running in major media outlets. The campaign highlights milk's essential role in food pairings – from the classically traditional such as milk + peanut butter and jelly – to new pleasingly bold pairings that reflect the popularity of fusion cuisine and the mainstreaming of ethnic foods in California cuisine. Each creative milk-pairing was handcrafted by a California chefs, which offer a delicious new way to enjoy milk while celebrating California's rich and evolving culinary heritage.
At TECHmunch, attendees will get to try those pairings. 
For the breakfast break, we're offering Italian Pumpkin Ricotta pancakes created by the chef at Forma, Santa Monica's trendy new Italian eatery on Montana Avenue.
For lunch, we'll be serving a Honey Sriracha Chicken prepared by LA's favorite street-smart chicken pros, Free Range LA. (Yum!) 
We're also hosting a contest at the event. We're inviting bloggers who are inspired by our "Food Loves Milk" pairings to exercise their own creativity by sharing their own uniqueMilk + Food pairings during and after TECHmunch using the hashtag #FoodLovesMilk.  Each blogger who contributes a pairing by October 21st will receive one of our super comfy and stylish Got Milk T-shirts. 
What types of bloggers/culinary content creators are you looking forward to connecting with? 
We're looking to connect with all kinds of content creators in the culinary and lifestyle space, from culinary artists to mommy bloggers. The only criteria we look for is a love for food, and of course, milk!
How do bloggers get on your radar?  
Come by and say hi during TECHmunch. Drop off a business card or media kit and tell us a little bit about your blog and community. We're always open to finding new partners. Feel free to share with us any editorial needs and help us make the connection by sharing with us some key points about you and your blog– not only how many readers you have, but what makes your blog unique, what your readers are looking for.
Can you share a tip on how bloggers can get the most out of attending a food blogger conference? 
Don't be Shy – Stop by and introduce yourself. Don't hesitate to share with us who you are and what your blog is about.
Build Relationships –As a brand, tell us how we can provide you with immediate content, story ideas and visuals. We want to work with you to provide you with the tools you need for immediate, as well as future, content. And if you do use our brand/content, let us know. Earned editorial goes a long way towards building a long-term relationship and potential sponsorships down the line.
Engage in Dialogue – The best conversations are two-way. Share with us what your readers are looking for and questions or concerns they have so that we can help support you with story ideas or suggestions or experts to supplement your blog.
Make the Most of the Opportunity – Don't forget that one main reason to attend TECHmunch is to gather content ideas, so don't forget to develop your story ideas onsite and be sure to supplement with great visuals to engage your readers